Wednesday, September 28, 2016, I got a very late start for my intended prairie dog town because I hadn't planned on going out after prairie dogs. The area I wanted to hunt at had received about 1.5 inches of rain over the weekend. The weather was real nice Wednesday morning and I thought that since it had been nice on Tuesday as well, there was a good chance it had dried out enough to go hunting down there. My wife and I had breakfast at home and then I decided to go out and try a PD hunt anyway.

My wonderful wife packed a lunch for me and I left my garage at 10:59 a.m. and parked my pickup on the two-track trail in the middle of the PD town at 12:20 p.m. Today I was going to use my Savage 12VLP .204 Ruger I bought back in June of 2004. I have made a few changes to that rifle over the years. I installed a Rifle Basix SAV-1 trigger in place of the AccuTrigger and removed the factory laminated stock and installed a Bell & Carlson Tactical Medalist Style 2 stock in the tan color with the black web paint. Originally I had a silver colored Leupold VX-III 6.5-20x40mm scope with the fine duplex reticle on this rifle, but replaced it with a Nikon Monarch 3 in 6-24x50mm that has the Nikoplex reticle and side focus. Back in the fall of 2013 I had my gunsmith chamber and install a stainless steel #6 contour super match grade Pac-Nor barrel with a 1 in 11 twist and 3 grooves. He chambered the barrel with my reamer and fluted the barrel too. After he installed the barrel I went to his shop and broke in the barrel in his indoor tunnel and had the barrel sent in to H&M Metal Processing and had them do the BLACKNITRIDE™ treatment on it. By the time I get 5 rounds of ammo in the magazine, 1 round in the chamber and 9 rounds in the shell holder I have on the stock, install the Gemtech Tech-Ti suppressor, add my 9-13" swivel Harris Bipod and my Avery Power Hunter sling this rig weighs 14.7 pounds!!!

Can I get some sympathy for being forced to carry this rig around prairie dog towns?!?!?!?!

Here's a photo of the rig.



The ammo I'm using in this .204 Ruger is loaded with 27.2 gr. of H4895, using Remington 7½ primers, and 39 gr. Sierra BlitzKing bullets coated with hexagonal boron nitride. I'm using virgin Norma casings and this load shoots very accurately considering I am using virgin brass. The muzzle velocity with this load is 3,860 fps and I sight the rifle in so it is hitting 1 inch high at 100 yards, which gives me a 240-yard zero.

When I pulled into my parking spot I looked up north at the prairie dog mounds and could see dozens of PDs scurrying about. I figured I better get my rifle out and hike up to the hillside and get in some shooting before lunch time. I shot one prairie dog south of my pickup at 12:40 p.m. and then hiked up to the hillside on the SW side of the PD colony. My next shot came at 12:53 and I nailed a PD that was 160 yards east of me. The PD population disappeared!!! I finally spotted two prairie dogs way up NE of me. At 1:09 p.m. I nailed the one at 293 yards. The other one I spotted was a lasered 339 yards away and it did not go down at the shot. At 1:12 p.m. I hit that one and decided to walk up there and take some pictures. Here's the one that was 293 yards away. It definitely had been eating well and was a big fat, ready-for-winter PD for sure.



The PD I hit at 339 yards in distance wasn't up on the surface of the ground when I got up to his mound, but when I looked into his den, I could see it down in the hole.



There was a slight left-to-right breeze when I shot and my bullet caught the PD on the right-hand side and splattered some of his digested food onto the wall of the entrance to his mound. I snapped several photos and then started walking back to the pickup.

Here's a view from where the 339 yard PD was back to where I was lying on a game trail on the side of the hill.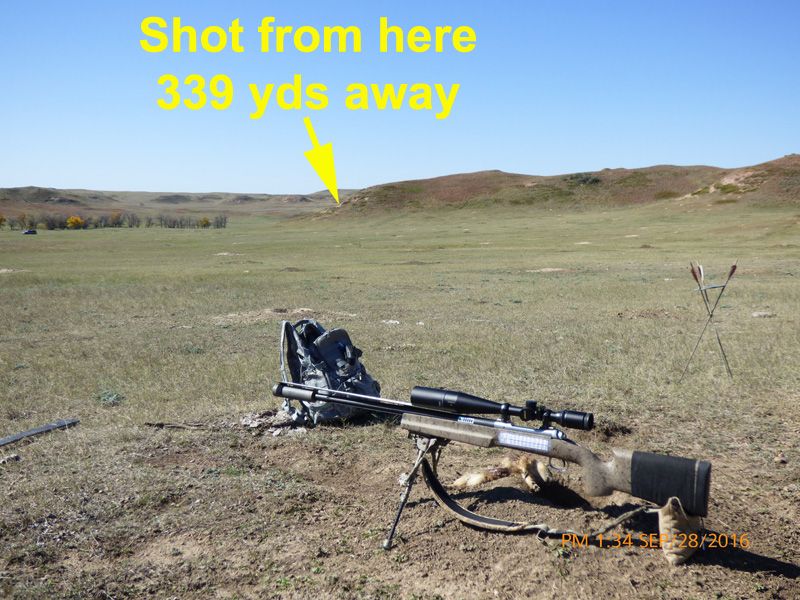 I had spotted some blossoms when I walked out to these two PDs and I walked back there and snapped a bunch of photos to share with you folks. That "blossom" on the lower right-hand corner was one of two beer cans I found out in this PD town on Wednesday. I packed them back to my pickup and disposed of them properly when I got back home. It is kind of disgusting to see the way some folks treat the land they are using—AND ABUSING!!! Pretty sad in my estimation.



I hiked back to the pickup and moved it into the shade of some trees so I could have lunch. After lunch I set my timer for a 50-minute nap, but only nodded off for about 20 minutes or so. I drove the pickup back to where I wanted to park it for the afternoon hunt, pointed the windshield into the sun, put my sunscreen in the window, and hung an old bed sheet over the windows on the passenger side of my pickup to keep the sun out. I left the pickup and I was carrying a large backpack that had two 20-ounce bottles of water in it, 100 of my .204 Ruger reloads with 39 gr. bullets in them, my camera, my range finder, some first-aid supplies, my notebook, the wooden platform I use to hold my camera on my home-made tripod, along with a sandwich, some cookies, and some trail mix. That is a much heavier load than I usually carry. The Savage 12VLP rifle is also my heaviest rifle at 14.7 pounds. That afternoon, I spent about four hours out in the sun walking, then lying down and shooting, etc., etc. I had some very, very good shooting at times. I had only taken 14 shots to this point and nailed 14 prairie dogs. Here's a look at one of the spots I shot from.



I walked way out to the SE end of the PD town and had GREAT shooting out there. I nailed 2 doubles there and lots and lots of singles. Here's one of the prairie dogs that was turned inside out by a 39 gr. Sierra BlitzKing bullet.



Time was flying by and I made the trip to not only shoot prairie dogs, but I also planned to check the point of aim on my .17 Remington with the BLACKNITRIDE™ treated barrel. On my last three or four shots with the .204 Ruger, before I started walking back to the pickup, I noticed that on two of my missed shots I hit high. So the next couple of PDs I shot at I aimed low and hit them smack dab in the middle. I was determined to get my scope adjusted for the .204 Ruger as well as the .17 Remington when I got back to the pickup. When I finished shooting, I was well over a mile from my pickup and wanted to get both rifles sighted in. I didn't run back to the pickup, but I walked at a very rapid pace. When I got my target set up I had my .204 Ruger sitting on the ground and then took out my .17 Remington and a box of ammo for that rifle and set that rifle on the ground. I was very tired when I got back to the pickup at 6:50 p.m.

I use my tailgate as my shooting bench. The suppressor I needed for the .17 Remington was the same one I had on the .204 Ruger so I decided to shoot the .204 Ruger rifle first. I had several shells in the magazine of the .204 Ruger and chambered one of those rounds and fired off shot #1. It was almost a full inch above where I wanted it to hit at 100 yards. The scope I have on this rifle has 1/8 inch clicks so I cranked it down 6 clicks. I chambered a second round and fired it. That shot was lower than I wanted. I cranked the scope back up 3 clicks and called it good for now. I'll sight it in again after I clean the barrel and treat it with LockEase.

I did sight in the .17 Remington before I started back for Williston. I had cleaned and LockEased the barrel and wanted to make sure of the point of impact. I wound up shooting 8 shots and the last three shots were spot on where I wanted them to be.

When I got home I sprayed some brake parts cleaner on a .38 caliber bore mop and cleaned out the chamber on the .204 Ruger. Next, I used some BoreTech C4 carbon cleaner on the bore mop and really worked on the inside of the chamber. I inspected the chamber with my bore scope and it looked great. I also cleaned the barrel on the .204 Ruger and inspected it and all looks good.

During the day, I had missed on 3 shots, hit on 2 doubles and also hit on 37 singles for a total of 41 dead prairie dogs for 42 shots today. I left the dog town at 7:45 p.m. and was in my garage at home by 8:53 p.m. Oh, here's the

"Hero Photo"

with the PD that was 339 yards away when I shot. How do you like my pink elbow pads that I wore in honor of Cancer Awareness Month?!?!?!