Once again, I got a late start out of town for a PD hunt down on the National Grasslands south of Williston, but I was sure the prairie dogs wouldn't mind if I was a bit late! I had three rifles that needed to have the point of impact checked and scopes adjusted if necessary so I pulled into the north end of a prairie dog town to do the checking. I set up my little target box and did some shooting. I fired 5 shots with the first rifle and had the scope adjusted just fine. The next rifle wasn't as accommodating!!! I had cleaned the barrel and put in Lock-Ease so these were the first shots down the tube and I expect the POI to be off a wee bit. The shots were about 1/2" lower and 1/2" further left than desired. I did some cranking on the windage and elevation knobs and took two more shots and they were waaaaaay off. I guess I should have shot more fouling shots? I cranked on the knobs again and shot four more shots and they were nowhere near where they needed to be. I decided to just case up the rifle and work on that some other day. It took out the third rifle and fired two shots and they were right on the money. So, I started driving to the dog town I planned on hunting in for the day.

I arrived at my parking place at 11:33 a.m. My parking place is about a half mile from the dog town, but since the dog town is on National Grasslands acreage and there are no trails leading to the PD town, I would have to hoof it in from my parking spot. I thought about packing my lunch along, but decided to go ahead and eat and then walk in. I ate my meal and at 12:00 noon I laid down for my daily siesta. I was up at 12:33, got my gear ready to go and at 12:55 I was walking towards the dog town. By 1:12 I was getting close to where the first PD mounds are located, but the doggone cows were milling around those mounds. There's a water tank there so I guess I don't blame the cows for being close to the water tank, but doggone it anyway, that spot is usually a GREAT spot and I often nail 10 or 12 PDs right there. As it was, I managed to shoot three or four PDs. I moved out to the northwest of the cattle and settled on a PD mound and by 1:45 I took my 13th shot. Old unlucky #13 because I missed that shot!!! Fortunately, one of my 13 shots nailed a double so I still killed 13 PDs with my 1 miss, 1 double, and 11 singles. Here's a photo of the double.




By now it was 88º and the wind was wafting from the SE at 10 to 15 mph. I decided to walk around on the east side of the dog town and try to get to the south end and shoot with the wind. As I was walking along I passed by one of the PDs I had shot and noticed that he had a mouth full of grass so I snapped a photo of him which you can see below.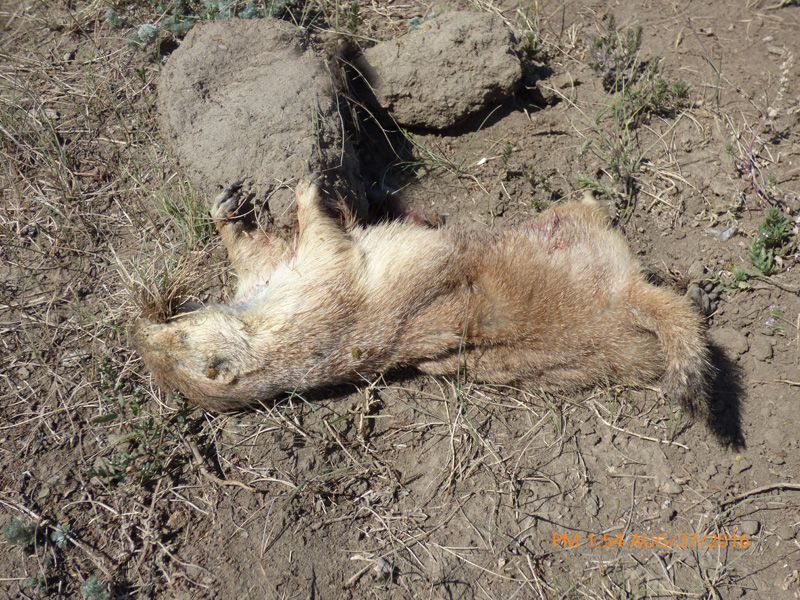 I shot a few more PDs and stopped to take some photos at 2:20 p.m. By then I had the one missed shot, 1 double and hit on 16 singles so I had 18 dead PDs for 18 shots. The action was very slow compared to the other times I have been in this dog town, so someone was either poisoning the PDs, the plague had reduced their numbers, or lots of folks had been here before me thinning out the population. I could see lots of vehicle tracks on this land where no one is supposed to drive except the people who run cattle there, so I suspect other hunters had thinned out the PD herd.

Here's a little collage of some of the bull thistle blossoms, some rose hips and yellow cluster of buds with a nice rock with some moss on it in the background. I don't have any idea what that white fuzzy blob is, so if you know help me out and let me know what it is.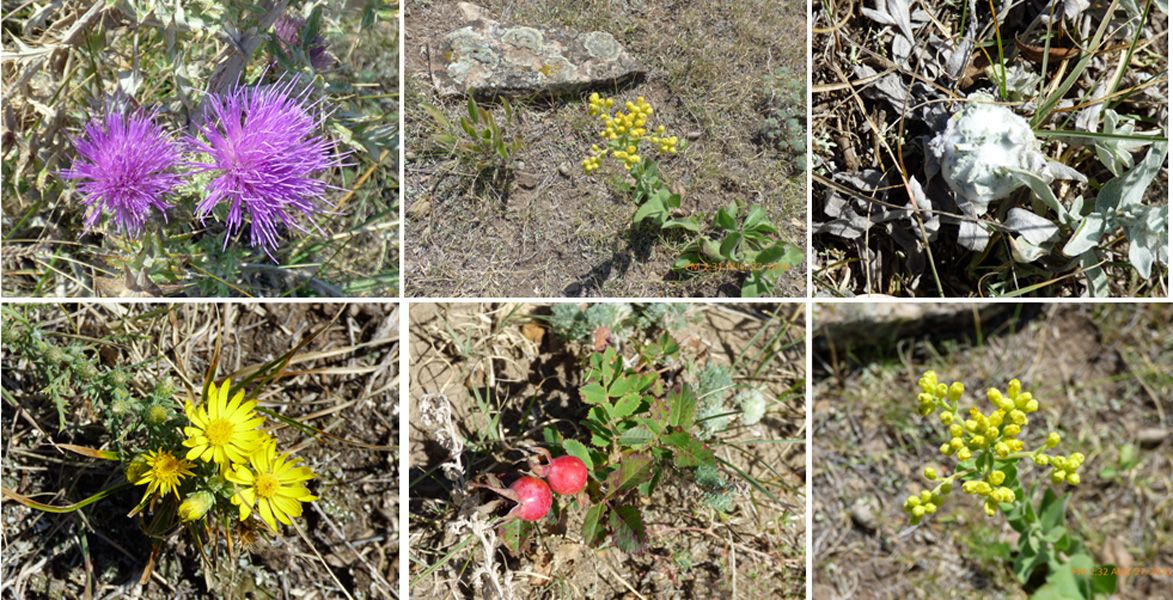 I decided to take out my ice cold water, finish off the other half of my sandwich and have a cookie for dessert. At 2:55 I got up from my snack and walked to the SW. I crept up on the east side of a little rise to get a good vantage point so I could shoot to the west and NW. There was only 1 PD up and about and I ended his days on the prairie. The temperature was 93º now and the 15+ mph wind felt good, but it didn't help my shooting accuracy. I started walking back to the pickup at 3:08 and spotted a few PDs on my walk back. I was very disappointed that there weren't more PDs. At one spot, where the wind was wafting from right to left at 15+ mph at a 90º angle to my line of sight, I lined up on a standing PD ranged at 180 yards away and squeezed off a shot expecting to see red mist!

NOTHING!!!

The PD just stood there. I lined up on him again, carefully squeezed off another shot—

NOTHING again

and it looked like the bullet hit to the left of the PD!!! Then this dumb Norwegian woke up and realized my 40 gr. V-Max bullets were deflecting 3 inches or more in the wind and I should have been aiming maybe an inch or more to the right of his body instead of aiming at the center of his body. By this time the prairie dog was on all fours with his rear end to the right and his head to the left so I aimed right in front of his rear leg and the bullet appeared to hit him right behind his left front leg—must have deflected 3 to 4 inches in the wind. I continued to walk to the pickup and shot a few PDs as I moseyed along.

Earlier in the day, when I was at the furthest point from the pickup, I ranged from that spot to the ridge where I cross over to the pickup. When I got to the top of the ridge I ranged the distance to the pickup and the total yardage was a little over 1,600 yards. I had only taken 29 shots, which is a miserably low number of shots for all the walking I had to do to get to this dog town. There just weren't many PDs out there to shoot at. I had missed on 3 shots, hit one double, and nailed 25 singles for a total of 27 dead PDs for my 29 shots.

I was using my Savage 12VLP .204 Ruger that I purchased used back in about 2010. It has a 25-inch 1 in 11 twist barrel and I shoot 40 gr. V-Max bullets coated with hBN. My load is 27.2 gr. of H4895 using WW brass and Remington 7½ primers. The muzzle velocity of this load is 3,840 fps and it really tears up the prairie dogs and isn't too fur friendly on coyotes either. It sits in the factory laminated wood stock and still has the factory AccuTrigger that has been adjusted to about 1.5 pounds of pull. I have a silver colored Leupold VX-III 6.5-20x40mm scope with a fine duplex reticle. I had the bolt bushed and Kevin Rayhill did some work on the bolt. It is as smooth as glass now. Here's the

"Hero Photo"

for this report. As you can see in the photo below, in my haste to get out to the PD town, I forgot to put my mirage shield on my barrel. Fortunately or unfortunately, I didn't need it because I never really had enough PDs to shoot at so barrel heat did not become a problem!!!