Once again I didn't get going very early in the morning, but I wanted to get to the rancher's house a little later in the morning because he likes to sleep in and I didn't want him to get angry at me for waking him up!!! I had my old Savage 12VLP that I had rebarreled with a stainless steel super match grade 1 in 11 twist three-groove barrel. I had my gunsmith use the same reamer I used on my Savage target action so both of them are chambered with a .230" neck. My brass is the Norma brand and I use hBN coated 39 gr. Sierra BlitzKing bullets and seat them so they are .010" off the lands. I'm using are the Remington 7½ primers to light the powder on fire. The load I'm using is 27.0 grains of H4895 and the muzzle velocity is 3,791 fps. The barreled action is sitting in a Bell & Carlson Tactical Medalist Style 2 Vertical Grip #2999 Savage 10—16 Short Action stock in the tan color with black web. The trigger is a Rifle Basics SAV-1 model adjusted to 1 pound of pull. The rifle is topped off with a Nikon Monarch 3 6-24x50mm scope with the Nikoplex reticle and there's a Gemtech Trek-Ti suppressor on the end of the barrel with a white mirage shield as well. I usually have the scope cranked up between 20x and 24x except on a couple of 15 to 25 yard shots.

I parked the pickup at 9:14 a.m. and it took me another 35 minutes to get all my gear together. However, I did pause and shoot two prairie dogs while trying to get ready to start walking. I left the pickup at 9:49 a.m. walked in a southerly direction stopping and picking off prairie dogs as I walked along. I hadn't walked 15 yards from the pickup before I set up on a PD mound and fired of 6 shots. I bagged 1 double and 5 singles to go along with the 2 PDs I had shot while trying to get my gear together. The photo below shows the two PDs I got on my first double of the day.




The shooting was pretty good. The pups are not quite as big as the adults, but are easier targets than they were a month ago. Here's a photo of one of the large adults and my rifle.




I had taken my Caldwell Wind Meter out to check the temperature and it was 82º. I knelt down alongside my backpack to put my Caldwell Wind Meter away and felt something on my boonie hat. I thought maybe a hawk has swooped down thinking my hat was some kind of prey. It wasn't a hawk, but it was a small bird. I didn't' get a real good look at it, but it might have been a male lark bunting. It was black and had white feathers on its wings. I was glad it wasn't a hawk!!! My camo must be pretty good if it fooled the bird!!!

One of the prairie dogs I shot in the morning was extremely large. I propped up one of my 39 gr. Sierra BlitzKing shells alongside the prairie dog's head for a comparison.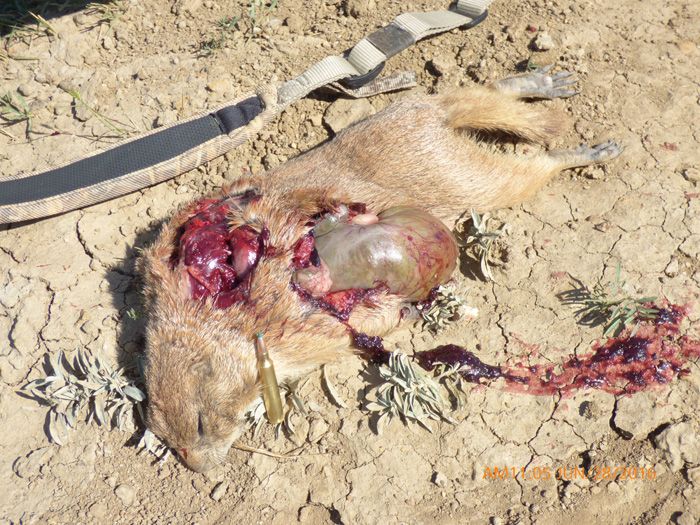 I had hit the east side of the valley and now I started walking to the WSW, stopping and shooting as I went along. I saw a stock dam up ahead and climbed up on the big mound of dirt that was there to hold the water back, but there wasn't any water in the dam. Anyway, it was a nice raised position from which to shoot in a 180º area. I had to stop shooting several times and used my BarrelCool device to cool the barrel down. I had 46 shells in this first cartridge box when I started shooting this morning and only 4 of those shells had the necks turned. I had shot 41 shots and hit on 3 doubles and 38 singles for a total of 44 dead prairie dogs with those 41 shots. The 42nd shot was a miss and it should have been a hit??? Anyway, I loaded the four casings with the turned necks and got 4 more prairie dogs with those shots. After those shots I was going to head back to the pickup, but I could feel something biting me under my arm and a couple places on my chest. I had to open my shirt to see what was going on and I had some little red ants making my life miserable. I got rid of them and headed back to the pickup. I had spotted lots of blossoms on my walk into the PD town so I took out my camera and snapped a bunch of photos of blossoms before I got back to the pickup. Here's a collage of some of the blossoms I saw. The milkweed plant and close-up of one of its blossoms were snapped in the afternoon. Those are the first two photos in the collage below.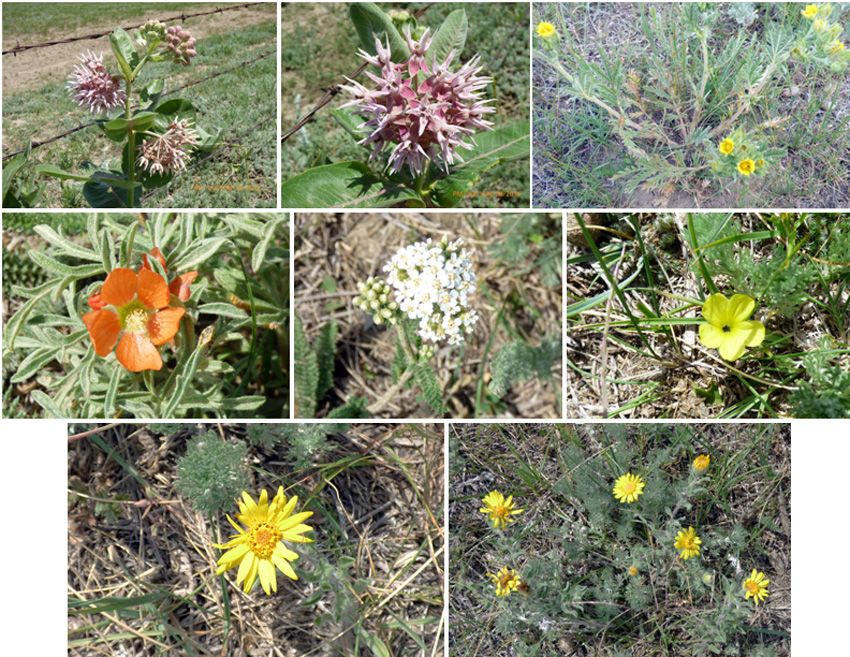 I put my rifle away and headed over to the ranch house to see if it was OK if I headed south of there for the afternoon shoot. I got the OK and drove to a point where I could park my pickup and stopped to have lunch at 12:20 p.m. After lunch I decided I needed a nap so I got comfortable in the shade of my pickup and got in a good hour-long nap. I didn't get started on the afternoon shoot until 2:50. I had 49 rounds left to shoot. Nine of those were casings that had been shot 3 times and the remaining 40 rounds had only been shot 1 time. By now the temperature was just a bit below 90º and at 3:30 I used the BarrelCool device for 10 minutes again to cool off the barrel. Here's a photo of the temperature sensitive strip with the 113º strip a green color indicating the temp of the barrel.




By 5:00 p.m. I had shot the last of my 49 rounds and decided to gather up a few dead prairie dogs for a group photo. Here's the "Hero Photo" of me with the

"Prairie Dog Quintet"

. There's one adult on the right and the other four are this year's pups.




It was 90º when I started my walk back to the pickup at 5:30. I got stuff packed into the pickup and started my trip back home at 5:41. I had a lawn that needed mowing so I wanted to get back home and get that done before dark. It had been a very good day out in the prairie dog town. I had taken a total of 95 shots. I had missed on 6 of those shots, managed to bag 4 doubles and 85 singles for a total of 93 dead prairie dogs for the 95 shots. Now I need to do some resizing and reloading to get ready for my next outing. I hope you enjoyed this PD hunt.